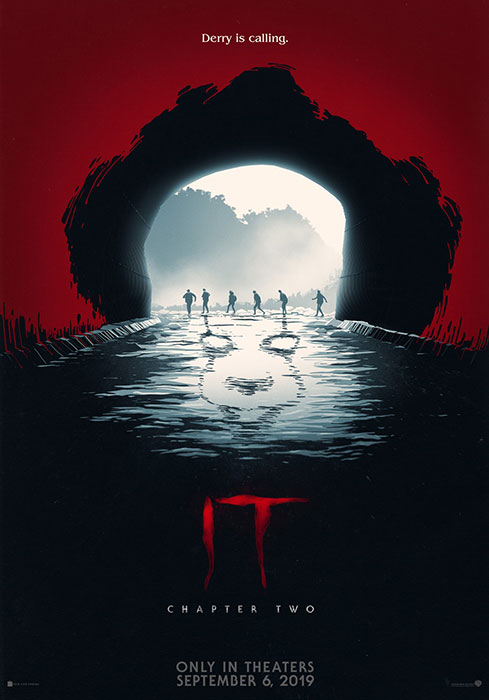 IT was the first "adult" book I ever read. As a ten-year-old, the year the miniseries was released, my mother told me that I couldn't watch the miniseries until I read the (massive) book, thinking there was no way in hell I'd actually do that. I carried that weighty hardcover tome in my backpack to sixth-grade classes, discovering a whole new realm of horror and (often very odd, and sometimes very icky) sexuality. I identified so much with the Losers then, and still do now. I was just younger than the Losers. And in IT Chapter One, the updated timeline put them smack dab in my ten-year-old time-frame. Now, the losers as adults, I'm just older than them. It's a unique perspective; one on which I still need to ruminate.
The first IT was such a tremendous risk. Stephen King properties had not been very successful in quite some time. The first adaptation of this mammoth book is far better in people's memories than in reality. They changed the timeline of the books to the eighties and 2016. The first glimpses of Bill Skarsgård in costume were underwhelming. Then the film was released, and it blew me away. It was scary; it was hilarious; it was tender and moving. The filmmakers understood something that few King adapters ever have, it's not about the monsters, it's about the people. In IT: Chapter One, we fell in love with the Losers Club, and the film played like Goonies mashed up with Stand by Me mashed up something genuinely terrifying and monstrous.
As IT became a juggernaut and broke records, and we learned we would be getting the "adult half," I watched every story on the casting and production, wondering if they'd be able to recreate the magic of the young Losers with adults.
They did.
Chapter Two is long and mean and funny and scary. It makes the impressive decision to reveal things that happened between beats of Chapter One, showing new setpieces and scares. So much from the novel has been pulled in or referenced or just hinted at (Mummy). They did something that neither the miniseries nor, honestly, King himself managed to do: land the plane.
The end of IT (the novel) is such a tricky beast, and while I might miss some things omitted, I don't miss a lot of the miscellaneous King shenanigans that the finale of the book gave us. I'm pleased to say that this movie caps a nearly 5-hour experience with an epic, touching, and satisfying ending.
Chapter Two does suffer from some of the unnecessarily overdone CGI. I don't have as much of an issue with Pennywise's expansive mouth CGI as others, but the leaper's face still is WAY overdone. That said, most of the CGI plays well.
One thing that Chapter Two really made me wish for, in addition to more great King adaptations and imaginings, is a new Nightmare on Elm Street. When the Losers separate to go their own ways, some of their experiences would feel right at home on Elm Street. C'mon, New Line.
As much as I enjoyed Chapter One and Chapter Two (and I think One just edges out Two because of the nostalgia factor) I spent much of the movie thinking about how wonderfully both would cut together as one giant film. I can't wait for home releases to see what the fanedit community does with it. Muschietti himself has recently rumbled about director's cuts of both, MAYBE together.
The best compliment I can give the film is to say how much of a companion it is to Chapter One. It feels of a piece, in a way that few sequels do. It has things to say and says them well. It is uncanny how well the adult Losers capture not only the spirit but the performances of the kids.
And Bill Hader shows himself a force to be reckoned with. I hope this gives him roles that he so rightfully deserves.