After tracking down the missing sister of her former partner Audrey, and helping to put an end to a monstrous being's reign of terror, one would think they'd find Prudence Osgood riding high. Instead, they couldn't find her at all.
A year and change after the events of Osgood as Gone, our titular hero has returned. Osgood is confused, exhausted, and dragging along more quirks than she ever remembers having. Her friends Zack and Audrey, the makeshift Spectral Inspector crew in her absence, don't quickly believe that things are back to normal, but have to admit that no one is quite as grumpy and belligerent as "their Osgood."
Unfortunately for all involved, something has hitched a ride back from the space between worlds, and not even Osgood can guess what its plans are. She will need to stand with her friends against a monstrous emergent evil, and it will take everything the Spectral Inspectors have to stop what's coming once the events are set in motion.
This is The Spectral Inspector, Book II. For Book I, check out Osgood as Gone.
Prudence Osgood is a barely-functioning alcoholic ghosthunter for hire. One night she receives a cryptic, untraceable email and can't resist embarking on an investigation that tugs threads winding through a sinister series of disappear- ances, her former partner's family, and a night twenty years ago when a semi truck nearly killed her.
Ryan and Jennifer are at that point in their marriage where they ask, "Is this all there is?" Luckily, at a friend's holiday party, they meet Bruce and Paige, an older couple who seem to have answered that question and then some. Their secret? Bruce and Paige are swingers, and Ryan and Jennifer are about to dive into the deep end, and change their lives forever.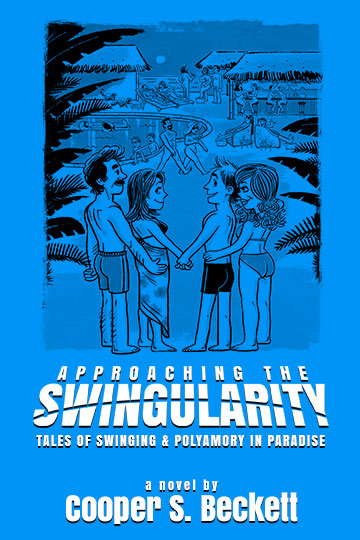 111 couples (including Ryan & Jenn and Bruce & Paige) have descended upon Aphrodite's Resort and Spa, a place of pleasure and debauchery, situated on a strip of white sand beach on the Riviera Maya for a week of the finest food and drink, meeting, flirting, and getting down and dirty in paradise with friends and lovers alike.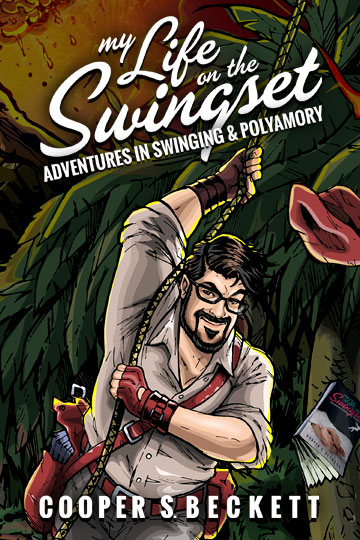 This memoir collects personal essays, stories, erotica, and "how-tos," beginning on a first date with a couple of swingers, working through social anxiety and shyness, recognizing the importance of touch in life, evolving feelings about love, threesomes, orgies, and prostate orgasms, going through a divorce, and leveling up in life and sexuality.
About Cooper

As a queer non-monogamous writer, Cooper S. Beckett endeavors to create characters that reflect the diverse lifestyles of his friends, his partners, and himself. From that mandate, he writes scary, silly, and sexy books and essays. Beginning his writing career as a podcaster as host of the Life on the Swingset Podcast and speaker in the sexuality education community, he wrote My Life on the Swingset, a memoir of his first five years in non-monogamy, then followed that up with two novels that take a brutally honest look at swinging and polyamory, A Life Less Monogamous, and Approaching the Swingularity. Returning to his first love, the horror genre with first Osgood as Gone, and now Osgood Riddance, has been like a homecoming. From a young age, his obsession with horror movies and books seriously concerned his mother. It probably still does. Given a choice, he would rather winter at the Overlook than the Waldorf. Like Lydia Deetz, he has always thought of himself strange and unusual, be it his perspective on sexuality, monogamy, politics, or where Elder Gods ought to fall in the hierarchy.
He lives in Chicago with Elle, his wife, constant, and binary star, Egon, their ghost terrier, and black cat Willow.