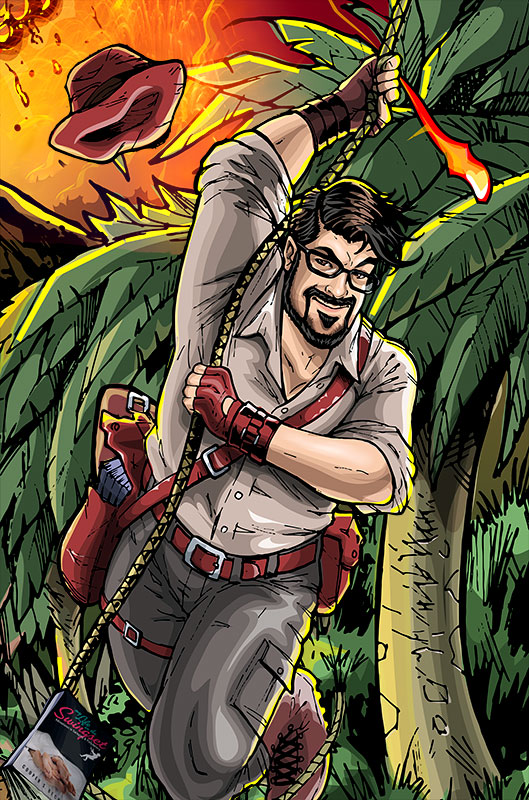 Cooper S. Beckett has taken the long way 'round to becoming an author. In high school and college he was prolific, banging out a host of mediocre novels and mediocre screenplays. As he grew into adulthood, he became a sex educator and podcaster, co-founding Life on the Swingset, a podcast and website about swinging, polyamory, and open relationships with Dylan Thomas.
Finally, though, inspiration struck, and he wrote a memoir of his time as a non-monogamous person, My Life on the Swingset: Adventures in Swinging & Polyamory. High on being a published author, Cooper returned to his first love, fiction and wrote two novels, A Life Less Monogamous and Approaching the Swingularity: Tales of Swinging & Polyamory in Paradise, both exploring sexuality, non-monogamy, and neurosis, through the lens of a couple of newbie swingers.
After a sabbatical, that amounts to a year in the wilderness of mind meds, Cooper felt the inspiration strike and slid off in an entirely new direction from his previous published work, one far more in line with his earlier writing.
As a queer writer, with toes in a number of outside the main- stream sexual collectives, he yearns to create characters that better represent him, his friends, and his partners, and as he returns to the horror genre, he does so with that in mind.
Based on a series of stories from his life in the before times, Osgood As Gone features a queer female protagonist replacing the traditional anti-hero male that was initially the star of his series. Returning to horror, there was little Cooper found less interesting than a cis-hetero male lead.
He spent much of his life afraid of sex, sexuality, his bisexuality, his true interests, and global thermonuclear war. Today, his work is as eclectic as it is eccentric. He travels to speak on sexuality and non-monogamy, has been a guest expert on Dan Savage's Savage Lovecast, and his is the voice that welcomes you to Tristan Taormino's radio show/podcast Sex Out Loud. He has taught classes all over the US on pegging, swinging, and play parties. He is a graphic & web designer, photographer, and voice over artist, co-hosts Eat The Rudecast, a podcast about the NBC television series Hannibal, and the upcoming Damn Good Podcast about Twin Peaks with Miko Technogeisha and Ophilia Tesla.
He is an avid board gamer, and can often be found playing Catan, Firefly: The Game, and his all-time favorite Zombicide. He collects Stephen King first editions, and has almost every first editions, but is still looking for some should you fancy giving him a gift. He is a knitter, and has proudly knit three Gryffindor scarves, a Freddy Krueger/Christmas scarf, five fourteen foot Doctor Who scarves, three "Very Fine" Jayne Cobb hats, and vows to someday figure out mittens.